What can the scheduling function be used for and how can I create a new schedule in BidX?
In certain cases it can make sense to adjust campaigns or even products (=product ads) temporarily or seasonally. Examples are special (one-time) sales events like Prime Day or simple seasonal factors like summer or winter. The scheduling feature in BidX can help you automate these adjustments.
Case Study: Decrease your ACoS by 16% with Dayparting!
1. How to create a new schedule in BidX?
Note: Currently the scheduling feature is in the closed BETA phase. For more information please contact our support team.
The new scheduling feature can be found in the Management section:

2. What basic settings can I make for a schedule?
1. Objectives
A new schedule can be applied to two different objectives:
Depending on the selection, either a campaign or the products (=advertisements / product ads) within the ad groups are adjusted.
2. Action Type
Based on this, one of the following action types can then be defined:
Status change
Boost (more information on the boost function here)
Products can be paused or activated (status change), for campaigns the daily budget and bids can also be changed (boost).
Note: Every time a boost is applied to a campaign - whether via a schedule or manually - bid adjustments are made.
3. Basic Type
In the last step, a basic type can then be selected
Weekday and time of day
Individual time interval
Performance (coming soon!)
Note: The given times always refer to the time zone of the marketplace to which the schedule is applied.
3. The different basic types explained in more detail
1. Weekday and time of day
With this basic type, you have access to a heat map of how high the relative turnovers are in each of four time frames on the corresponding days of the week. Based on this data, you can now set a planned status change or a boost.
Example: On Sundays and Mondays between 6 p.m. and midnight, the Company XY GmbH has relatively high sales. In order to support this effect and thus scale the sales, it makes sense to set a boost on the budgets and bids of the campaigns.
On Saturdays between 6 a.m. and 12 a.m. and between 12 a.m. and 6 p.m., on the other hand, sales are relatively low, which is why a negative boost would be recommended in order to reduce advertising expenditure at this point.
Example for the heatmap;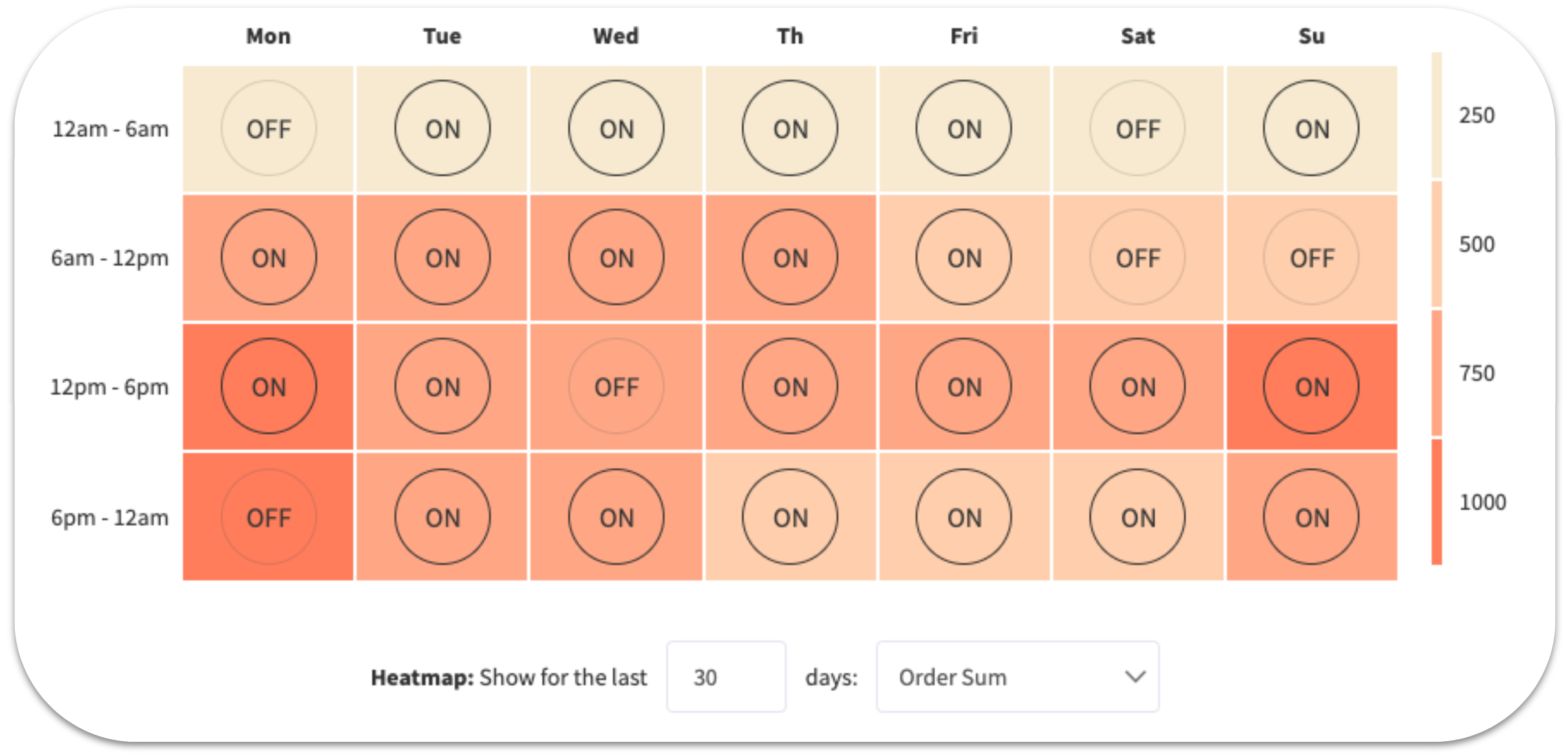 Caution: Currently the heatmap is only visible for seller accounts, who connected the Selling Partner API. For vendor accounts schedules can still be created, only the heatmap is not shown.
2. Individual time interval
This basic type can be used to automate adjustments to products or campaigns on the basis of a time interval. For example, a campaign can be boosted once or paused regularly on Fridays and Saturdays. Also schedules can be set for monthly or yearly change.
Example: The best-seller of the Company XY GmbH are transitional jackets. It is known that demand is particularly high at the beginning of spring and autumn. At this point, it is a good idea to activate the campaigns at the start with a schedule. In addition, a boost for the campaigns can be set with a further schedule in order to promote the products in the best possible way at the beginning and thus organically bring them into a good position.
3. Performance
coming soon!