What objectives can I define for an automation?
There are two different ways to create and activate an automation in the tool:
The way the automation works is the same in both cases.
Setup of an automation on a product basis
In "Product Management", an automation can easily be activated for an ASIN on a marketplace using the slider on the right side. When activated, the system creates an automation that is applied to all ad groups selected for that product in the "Structure" view. For this purpose, enter an individual target ACoS that you want the system to work towards. If the Selling Partner API is connected, you can also select one of the dynamic strategies.

If you activate an automation in Product Management, then these automations are displayed in "Automation & Rules". This is the folder "Controlling automated SKU Rules". Since the folder is an automatically generated folder, no manually created automations or rules can be stored here.
Note: You can place manually created automations or individual rules before and after them to determine their priority. The higher the automation or rule is in the list, the higher its priority is.
Good to know: You can also create your individual folder structure and move your folders as you like via Drag & Drop. Just click on "+ New Folder" (top left).
Setup of an automation for specific campaigns, ad groups, keywords, tags or a focus
To create such an automation, click in "Automation & Rules" on "+ New Automation".

In the opening modal window you can specify all settings for the automation.
Name of the Automation: Enter an identifying name for your automation, e.g. the target value or the campaign group to which it should be applied.
Apply to: Here you determine to what the automation should be applied. You can choose between campaigns, ad groups, keywords, tags or focus types and usually combine them. You can also choose whether only one or all conditions must be true for the automation to be applied.
Target: You specify a target value for ACoS, Total ACoS or Budget that the automation should work towards. The bids of the keywords affected by the automation are then adjusted in such a way that the current ACoS or Total ACoS continuously converges towards the target value.
Keyword & Negative Keyword Management: Activate the Keyword Management to automatically add keywords and negative keywords to the corresponding ad groups. Please make sure that your corresponding ad group structure is set up correctly in the Structure view of Product Management.
Marketplace to apply: Select the marketplaces to which the automation should be applied.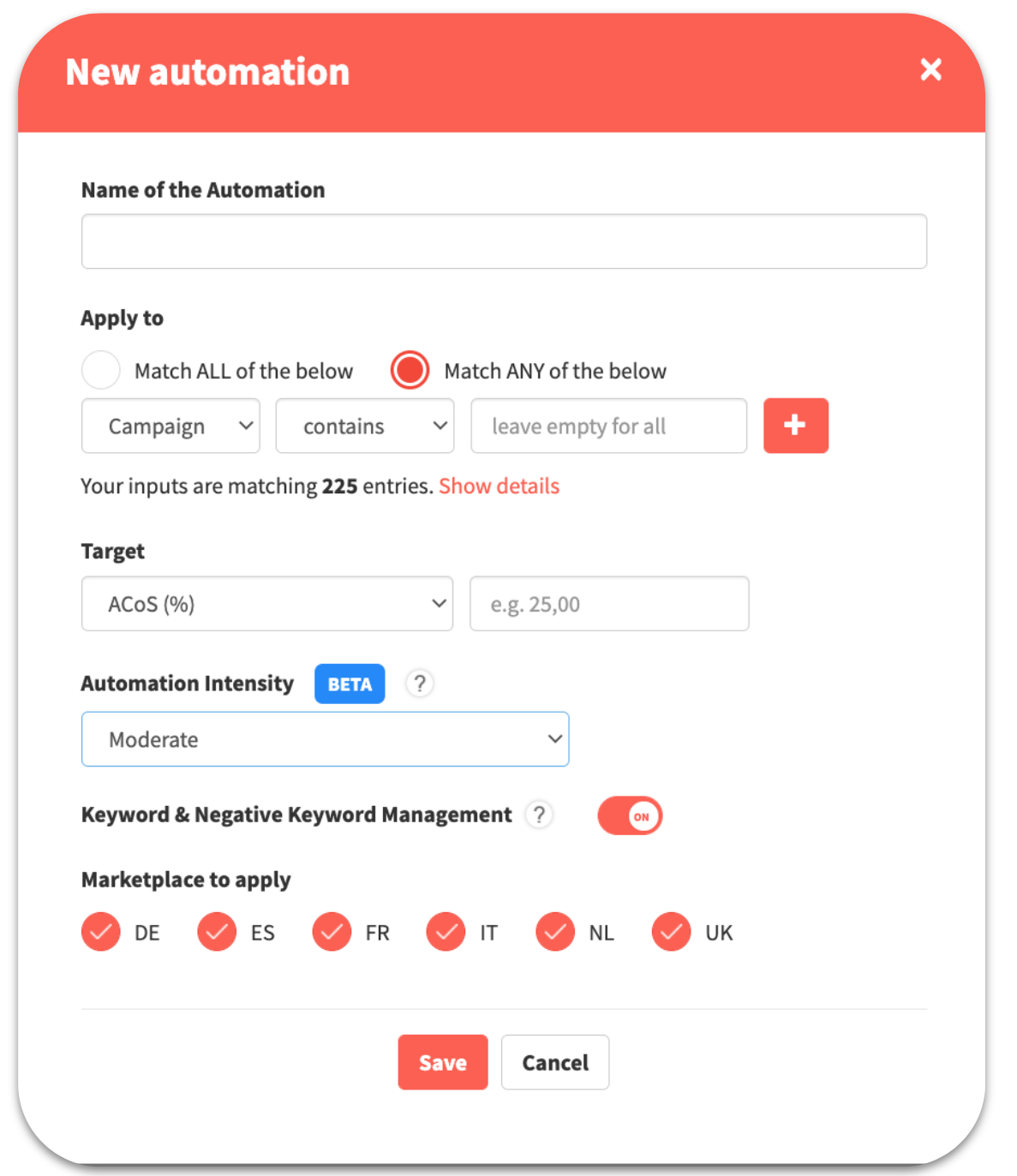 BETA function "Automation intensity"
Your bid adjustments can be optimized as usual with the default "Moderate" setting.
With the new BETA feature, you now also have the "Cautious" (weaker) and "Dynamic" (more aggressive) settings available.
"Cautious" means that more clicks than the statistically significant number of clicks are required for a bid adjustment. With the "Dynamic" setting, an adjustment is made after just a few clicks.